Wheel Balancing vs. Wheel Alignment

The wheels on your new or used vehicle are arguably some of the most vital components on it, so it's important that you maintain them regularly with common services like wheel alignment and balancing. Many Schaumburg drivers mistakenly think that these two services are one and the same, but wheel balancing and alignment are actually quite different. Explore the key differences between wheel balancing vs. wheel alignment with the service experts at Biggers Chevrolet.
What Is Wheel Balancing Service?
Wheel balancing should be performed regularly, as wheels do naturally lose their balance with time. Wheels that are out of balance can cause the steering wheel to shake or vibrate, creating an uncomfortable ride in Streamwood. Unbalanced tires can also wear at different rates, as one part of the tire is heavier than the others.
Having your wheels balanced will ensure you enjoy a safe, smooth driving experience, with minimized tire bounce and increased traction, as well as longer tire life. Experts recommend you have a wheel balance with every tire rotation, meaning you should have it done every 5,000 to 6,000 miles or every six months.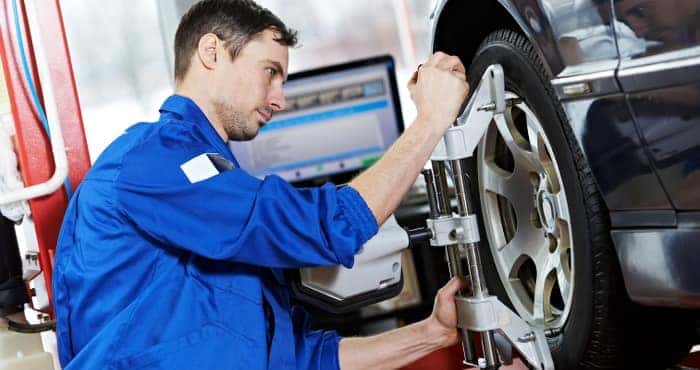 What Is Wheel Alignment Service?
Wheel alignment is a service that can be performed with less regularity than wheel balancing. Sometimes referred to as a front end alignment, having your wheels aligned involves a service technician making sure your tires are perpendicular to the road and parallel to each other.
When wheels are out of alignment, it can result in excessive, uneven tread, unnecessary wear and tear on your tires, and even steering problems. This is to say that, though wheel alignments aren't required with regularity, you should have one performed every two to three years. Fail to have your wheels aligned, and you may experience vehicle pulling, which can cause you to drift into other lanes as you're driving.
Wheel Balancing vs. Wheel Alignment: Which Do You Need?
After exploring the differences between wheel alignment and balancing, you hopefully have a better idea of which service you may need to be performed soon. If you're experiencing a bumpy ride or vehicle pulling in Bartlett, simply schedule an appointment with Biggers Chevrolet! Our expert service techs will have you back on the road in no time, and our service specials can help you secure great savings on routine service. Have questions? Contact us or give us a call at 888-256-1056 anytime!
More from Biggers Chevrolet
It's hard to believe (and your kids may simply refuse to believe it), but with July nearing its end, the demise of summer break will soon be arriving. If you're searching for ways to pack in a little more fun on long summer nights before it's time to head back to school, Elgin's Summer Movies…

The 2019 Chevrolet Camaro delivers incredible power to your Schaumburg drives, reaching up to 650 hp and 650 lb-ft of torque to put it far ahead of competitors like the Ford Mustang. Of course, the Camaro is known just as much for its good looks as it is for its strong performance. Available as a…

Finding fun ways to spend the weekend in Elgin this summer is easy. From neighborhood BBQs to teen-friendly events, there's always something going on in our wonderful community. But what about weekdays? When the sun doesn't set until late in the evening, it'd be a shame not to enjoy every bit of it, even on…