Best Burgers in the Elgin Area

When folks visit us for a new Chevy, they often get to talking about their favorite Downtown Elgin hot spots, including where to find the best burgers in the area! We'd be remiss if we didn't share this important information with others, so without further ado, explore some of the top burger joints in and around Elgin with Biggers Chevrolet, below!
Elgin Public House
Greg and Lou, the owners of Elgin Public House, invite you to introduce yourself to them and the rest of the Public House family as soon as you enter their classic pub-style eatery. More importantly, though, they just want you to indulge in their "better than average 'pub grub,'" which certainly isn't hard to do! Their burger menu is extensive, ranging from the classic cheeseburger with your choice of toppings to specialty options like the Mac Attack and the Fiesta Burger.
Mr. C's Hot Dogs and More
This classic Chicago-style hot dog diner includes all the staples: a black and white checkerboard floor, Vienna Beef signs in the window, and, of course, plenty of neon signage! Mr. C's Hot Dogs and More may put the emphasis on hot dogs, and for great reason, but today we're shifting that focus to the "and More." When you have a hankering for a classic hamburger or cheeseburger with all the fixings, Mr. C's is the place to go. Can't get out of the office? They deliver!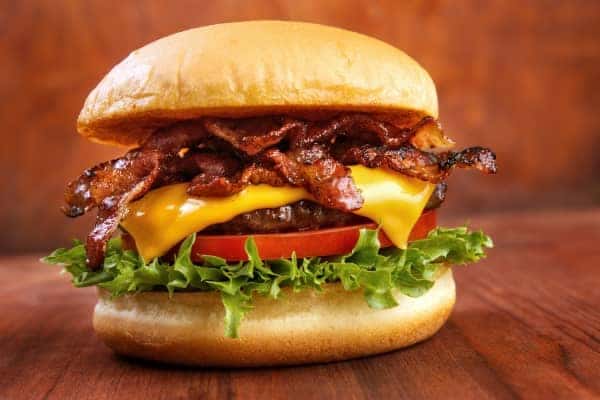 Beef Shack
There are only two burgers on the menu at Beef Shack: a cheeseburger or a bacon cheeseburger. When you take the first bite, you'll immediately understand why additional options simply aren't necessary. Of course, if you ask nicely, we're sure they'll omit the cheese. Don't forget an order of fresh cut fries on the side, and if you have room, a Beef Shack milkshake perfectly rounds out the meal.
The Walnut Speakeasy
The Walnut Speakeasy doesn't require a password to get in, but if they did, it would surely be "incredible burgers." Their fresh char-broiled burgers stand out amongst competitors, and they even offer the Impossible Burger for those who don't eat meat. If you can't decide what to order, we highly recommend the Cajun burger and the California burger. Or, why not choose the burger of the month and let the Walnut decide for you?
Beef Villa
Beef Villa's burgers, hot dogs, beef sandwiches, and more are so great, they had to open three locations in Elgin to meet their demand! The Villa Burger is a house specialty, complete with all the fixings and perfectly sandwiched in a steamed kaiser roll. Looking for something to do on a summer Saturday night? Stop in for Saturday Cruise Nights at the South Elgin Beef Villa to enjoy a burger and check out the gorgeous vintage cars on display.
Explore Elgin with Biggers Chevrolet!
Whether you're looking for the best brunch in Elgin or fun things to do with teens, the team at Biggers Chevrolet has you covered! For more local advice you can trust, feel free to contact us anytime. We would love to talk with you about the best ice cream in Elgin and much more!
Explore More of Elgin
It's February again, which means it's time for the annual Chicago Auto Show! Chevy was in attendance and highlighted a variety of exciting updates, including the all-new 2021 Chevrolet Tahoe and Suburban. Take a look at some of the newsworthy highlights from Biggers Chevrolet, and be sure to keep up with us throughout the rest of…

It's hard to believe (and your kids may simply refuse to believe it), but with July nearing its end, the demise of summer break will soon be arriving. If you're searching for ways to pack in a little more fun on long summer nights before it's time to head back to school, Elgin's Summer Movies…

Finding fun ways to spend the weekend in Elgin this summer is easy. From neighborhood BBQs to teen-friendly events, there's always something going on in our wonderful community. But what about weekdays? When the sun doesn't set until late in the evening, it'd be a shame not to enjoy every bit of it, even on…