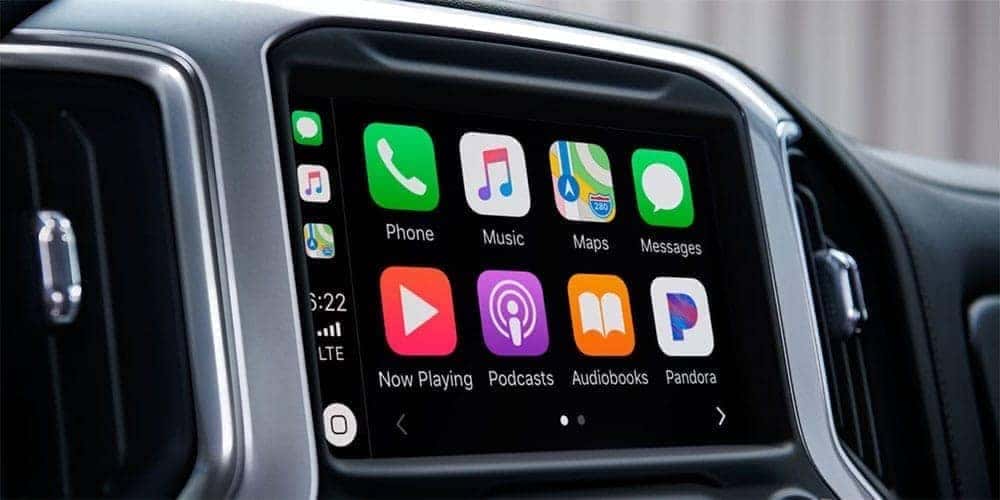 When you're researching new and used Chevy cars, trucks, and SUVs, you may wonder: What is Chevy MyLink? You may also wonder the differences are between Chevy MyLink and the Chevrolet Infotainment 3 system. Put simply, MyLink an advanced entertainment system that improves Streamwood drivers' daily travels. It offers advanced convenience features, smartphone integration, driver safety tech, and more. Keep in mind that new Chevy vehicles from the model year 2019 and later are equipped with the updated Chevy Infotainment 3 system instead of Chevy MyLink, but the two systems' features are virtually the same. Learn more about the Chevy MyLink apps and other benefits with Biggers Chevrolet.
Chevy MyLink: Smartphone Integration
Thanks to smartphone integration, you'll never lose access to your Chevy MyLink apps or other smartphone apps you use daily. If you use Apple CarPlay® or Android Auto™, Chevy MyLink is compatible with both systems, allowing Schaumburg drivers to access their favorite features and apps right in their vehicle's display. In the Chevy MyLink App Store you'll discover new features while still accessing your top songs and podcasts. Pair your phone to the system to allow the following functions:
Stream music from your smartphone
Use the search power of Siri® or Google Assistant right in your car
Place and Receive calls
Sync your contacts
Dictate text messages
Chevy MyLink: Entertainment and Convenience Features
Don't worry if you don't have a smartphone –– you can still use Chevy MyLink apps to access the entertainment and convenience features, similar to the Chevy Infotainment 3 system. The convenience features will keep kids entertained when they can't think of their next car game. If you need a useful navigation system for trips to Bartlett or enjoy listening to the radio, MyLink offers:
Turn-by-turn navigation
Pandora® audio streaming
Stitcher podcast streaming
Available 4G LTE Wi-Fi® connection
SiriusXM® Travel Link/NAV Traffic
Chevy MyLink: Teen Driver Technology
If you're a new teen driver or parent, be excited to access the advanced Teen Driver Technology through Chevy MyLink or Chevy Infotainment 3. This new technology encourages teen drivers to drive safer to Elgin parks with advanced pre-set controls and reminders. Hanover Park teens and parents can expect:
Visual and audible warning when exceeding pre-set speed limits
Music volume limits
Industry-first in-vehicle report card for parents to review
Muted audio when front passengers aren't buckled in
Discover the Chevy Infotainment 3 System
As mentioned, in 2019 and newer Chevy models, you'll new Chevy Infotainment System, which boasts many of the same features as the Chey MyLink infotainment system did, rolled into a new user experience with some differences. What are the highlights of the new Chevy Infotainment 3 System? Here are just a few:
Many models equipped with Chevrolet Infotainment 3 boast a standard 8-inch touchscreen
Chevrolet Infotainment 3 comes standard with both Apple CarPlay® and Android Auto™
Chevrolet Infotainment 3 offers an available navigation system for added ease when driving around Elgin
You'll find connections on this new Chevy infotainment system that you weren't likely to find on older Chevy models with MyLink systems, including an abundance of USB-C connections replacing AUX connections
Wireless device charging is now standard with the Chevy Infotainment 3 in select Chevy models equipped in certain configurations
How to Set Up Apple CarPlay® & Android Auto™ with Chevy Infotainment 3
Curious how to get your smartphone integrated with your Chevrolet Infotainment 3 system? Here's a handy guide:
Get to a safe location where you're stationary, and put your Chevy into park.
Connect your phone with your factory USB cable.
The Apple CarPlay® or Android Auto™icon will illuminate. Follow the on-screen steps and accept any terms of service.
After following the prompts on-screen, you should be set up with smartphone integration! Still need help? Contact us with questions.
Check Out Chevy MyLink App Store at Biggers Chevrolet
Still have questions about the difference between Chevy MyLink apps vs. Chevy Infotainment 3 system? Contact us at Biggers Chevrolet for answers! We can guide you through updating your Chevy MyLink software or how to add new apps. Visit us at Biggers Chevrolet when you're ready to trade-in your current vehicle for a new or used Chevrolet you'll love!
---