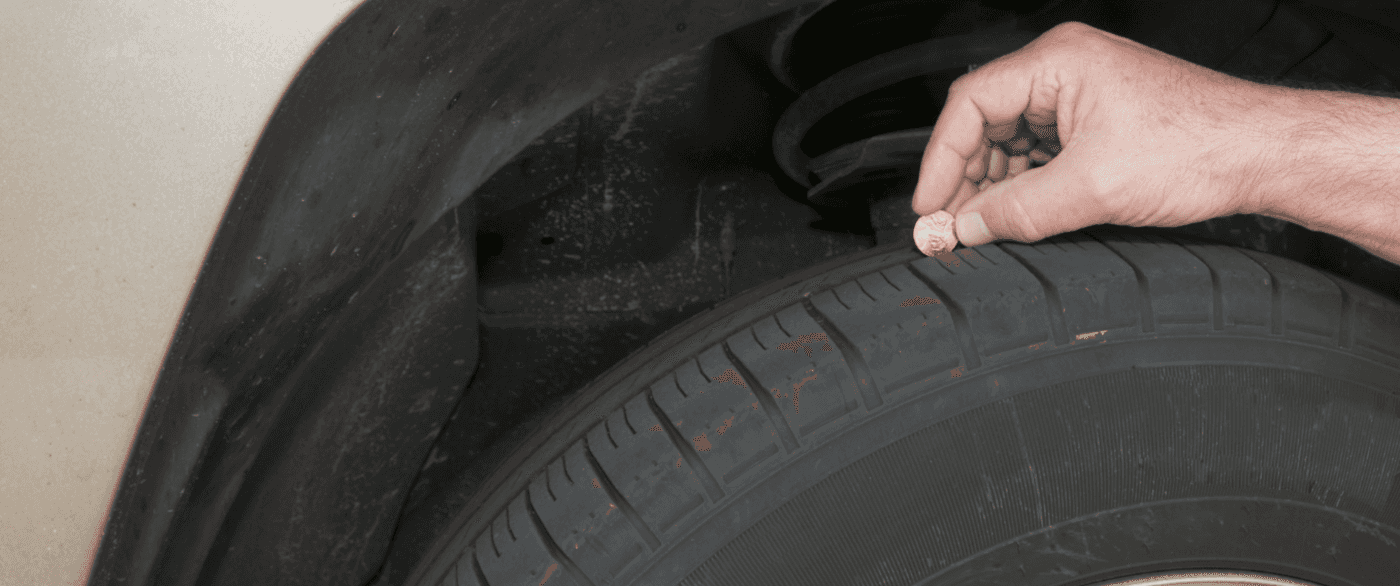 You might be thinking "when was the last time I checked my tires?". And after that, you might wonder "How do I check my tire tread depth?" If you're wondering about whether or not it's time to replace your tires due to normal wear and tear, we can help here at Biggers Chevrolet!
Checking your tire tread depth can be done with a tread depth gauge, but all you really need is either a ruler or penny in a pinch to check your tire tread at home in Streamwood or nearby! Find out more below, and contact us if you have any questions.
---
What is a Safe Tire Tread Depth?
Before we discuss safe tread depth, let's talk about new tire tread depth. Brand new tires provide about 10/32 or 11/32 of an inch of tread depth (this equates to about a third of an inch). Winter tires and some rugged truck or SUV tires may have deeper tread grooves for enhanced off-roading capabilities and increased traction.
Now let's talk about unsafe tire tread depth. When your tires reach 2/32 of an inch, it's time to replace your tires, according to the U.S. Department of Transportation. Driving with enough tire tread depth is absolutely critical to the safety of you and your passengers as you adventure throughout Schaumburg and beyond. And proper tire care, like frequent tire rotations, can help extend to life of your tires.
The Penny Test
Using a ruler, if you have one, and placing it into the tread of your tire to measure its depth precisely is the most accurate way to measure tire tread depth at home near Bartlett. Still, if you don't have a ruler, you can use the penny test.
The design on the U.S. penny makes it an ideal tool to help you measure your tire's tread wear. To use this handy tire tread depth test, follow the below steps:
Obtain a penny that you can clearly see Lincoln's head on.
Insert the penny with Lincoln's head face-first into a tire tread groove.
Check to see if Lincoln's head is covered by the grooves of your tire.
If you can Lincoln's entire face, it means your tire treads are 2/32 inches deep or less and it's time to replace them.
Repeat this process on each of your four tires and at multiple locations on each to see if they're evenly worn (sometimes vehicles that have been driven aggressively, vehicles with all-wheel-drive, or vehicles whose tires haven't' been rotated will have tires with 2/32 of wear on some parts and not others. They'll still need to be replaced).
Other Ways to Check Overall Tire Health
There are special tools available in Bartlett to check your tires, including tire tread depth gauges. Often, tires also have wear bars built-in. These visible marks indicate the replacement 2/32 inch mark. While you check your tire tread depth, some more things to keep in mind include:
Any visible tire damage
Dry rot or disintegration
Tire pressure
Wheel alignment
Maintain Your Tires with Biggers Chevrolet
When you take your car to the local service center for routine service or maintenance, the service technicians should inspect your tires for any wear or other issues that require them to be replaced. If you're heading in for an oil change, be sure to have your tires rotated, too! If, however, it's time to get a new set of tires, contact us and be sure to see our parts and service specials to save money on your next purchase!