Used Chevrolet Tahoe
The Rugged Chevy Tahoe: Quality Used Models at Biggers Chevy Near Elgin and Schaumburg
The Chevy Tahoe is the ideal balance of rugged performance and refined style. Now Elgin and Schaumburg drivers can own a used Chevy Tahoe at an affordable price. Why break the bank on a new SUV when you can enjoy the same high quality in a pre-owned package? The Chevy Tahoe provides many features to aid in comfort and convenience while boosting cargo and performance capabilities. Come to Biggers Chevy today to find your next used Chevy Tahoe. We are well-versed in the history of this popular brand, so we can find just the right model for your lifestyle.
Tahoe History
The Chevrolet Tahoe has been a popular choice since the 1990s. It's a traditional, full-size SUV built on a truck platform. This means it drives tough on the roads, while feeling luxurious for up to nine passengers. The Tahoe always includes a powerful engine and a wealth of available amenities for the ultimate in comfort. Due to its strength and versatility, it is a popular choice for a wide range of drivers. While this SUV is a perennial favorite with families, it is also a top choice for drivers who own boats or horse trailers. Drivers across the globe have happily relied on the durability of the Tahoe throughout the years.
Third Generation Tahoe
The third generation Tahoe ran from 2007 to 2014 and saw a number of modern changes. This reliable SUV even included a short-wheelbase model and a police counterpart version.
In 2006, the Tahoe was reconstructed with an improved highway mileage. Fuel economy climbed from 19 mpg to 22 mpg, thanks to the addition of Active Fuel Management cylinder deactivation. This innovative system allowed a V6 or V8 engine to turn half of the cylinders off during very light load conditions. The 2006 Tahoe had a maximum towing capacity of 7,700 pounds and a maximum payload of 1,522 pounds.
The 2007 Tahoe was updated with refined front fascias, hood, grille, and taillights. The 2007 model also had a more angular design to create an upscale, luxurious appearance. Stepping inside the cabin, the interior featured genuine wooden trim on the dashboard with crisp, chrome accents on the instrument controls. Finally, Chevy added new door panels and carefully crafted seats as the finishing touch to the 2007 Tahoe.
The 2009 Tahoe LTZ included the option to rev with a roaring 6.2L engine with 395 hp. The 6L80 replaced the 4-speed automatic transmission with a 6-speed automatic transmission, with the exception of 2WD models with a 4.8L engine.
For 2010, Chevrolet modernized the Tahoe with a mid-cycle refresh that featured a slightly raised bumper, redesigned door trim, enhanced side structure, and side torso air bags for added safety and peace of mind. In any configuration, the third generation Tahoe was built to impress.
Fourth Generation Tahoe
Chevrolet engineers and designers worked together to redesign the 2015 Chevrolet Tahoe with some of the most innovative technology around. Chevrolet listened to customer feedback and made improvements to create a more efficient and comfortable SUV. The 2015 Tahoe revised its ergonomics with complete fold-flat third row seating to make every day errands simpler. The 2015 Tahoe also displayed updated exterior styling for a finer presence on the road, coupled with a quieter interior for a soothing ride. Chevy improved the fuel economy to 16 mpg in the city and 22 mpg on the highway to make fuel stops less frequent.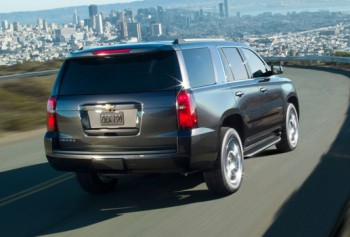 Many drivers appreciated the strong 5.3L V8 engine with 355 hp and 383 lb-ft of torque. This powerhouse also featured a tough maximum towing capacity of 8,500 pounds and a maximum payload of 1,752 pounds. You could expect the 2015 model to get any job done with power and finesse. Between the available option of nine-person seating and plush luxury seats, the Tahoe perfectly balanced luxury with a spacious feel. Even with a full cabin of passengers, you could still enjoy 15.3 cubic feet of cargo space to store shopping bags or luggage. The 2015 Tahoe also featured a maximum cargo space of 94.7 cubic feet, so hauling large items was easier than ever.
Your Next Tahoe is Waiting for a Test Drive at Biggers Chevy
We welcome all Elgin and Schaumburg drivers to visit our dealership to find a used Chevy Tahoe. Our used models are in excellent condition with an excellent price to match. We would be happy to show you plenty of third and fourth generation models with the features and amenities you need. Come experience the power, reliability, and comfort of the Chevy Tahoe at Biggers Chevy. To ask us any questions about our inventory of used Chevys or to schedule your test drive, contact us online today. We look forward to meeting you!