Preventing Car Theft
Unfortunately, it is a common occurrence for certain items to be stolen from parked vehicles. However, there are a few simple steps you can take to help prevent car theft and keep your belongings safe. Biggers Chevy is here to help identify some of the most commonly stolen valuables and provide tips for keeping those items out of the hands of criminals.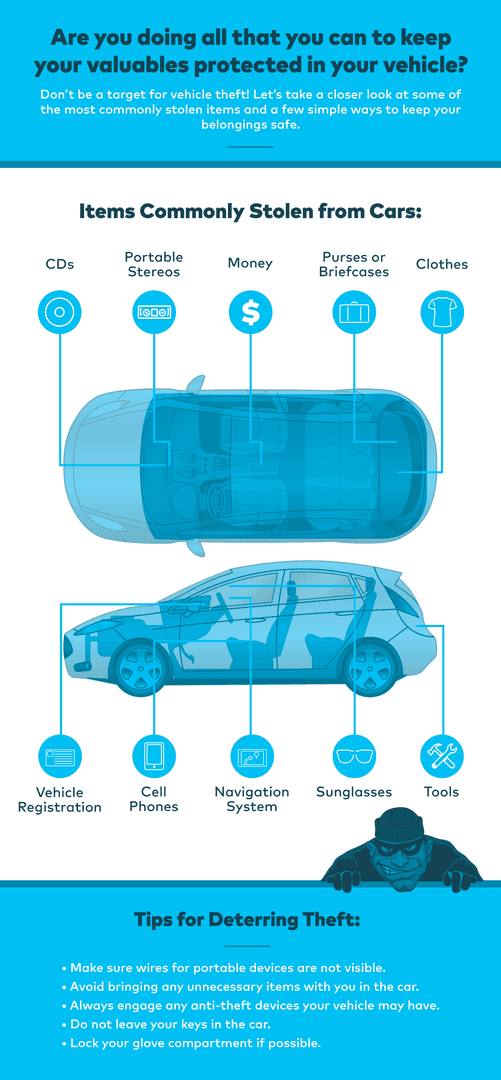 How to Prevent a Car Break-In
In less than 60 seconds, a thief can break into a vehicle and steal expensive items such as computers, cell phones, purses, and more. That means in just the few short minutes you spend getting coffee or stopping at the convenience store, your valuables could be long gone. There are several ways to deter car theft that are easy to incorporate into your daily routine.
Keep your car visible by parking in a well-lit area, and if you drive a small vehicle, do not park in-between two larger vehicles.
Remember to lock your doors and keep your windows closed.
Because many smash-and-grab thefts are impulsive, make sure valuable items are not visible and are kept in a locked trunk. Remember to hide "evidence" like power cords and mp3 adapters.
If you are traveling with valuables, be sure to stow them in a secure area before arriving to your destination. Thieves often watch for people who are putting their belongings in the trunk.
Further protect yourself from vehicle theft by signing up for a gap insurance plan. While items stolen from your vehicle may not be covered, you'll be happy to have it in the unfortunate event of total vehicle theft.
---