Oil Change Services Lake in the Hills
Biggers Chevy Provides Professional Oil Change Services For Lake in the Hills Drivers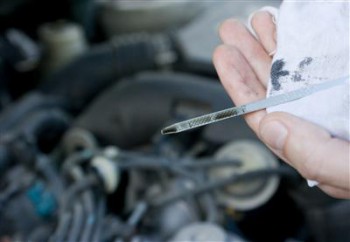 If you are looking for a convenient and reputable dealership for an oil change near Lake in the Hills, then look no further than the Service Department at Biggers Chevy in Elgin. Located just 30 minutes from Lake in the Hills, our dealership proudly offers highly qualified technicians committed to keeping your vehicle cruising along at its peak performance, providing routine maintenance services such as the ever important oil and filter change.
Why Change Your Oil?
Oil is a necessary ingredient for a healthy engine, as it keeps metal engine parts from touching, carries the heat away when the metal pieces of your engine spin, and it keeps dirt suspended so it can move directly to the oil filter. Without oil, dirt would settle in the bottom of the oil pan and then build up. Oil also contains anti-corrosion additives and serves as an anti-friction additive for the rare case that metals do ever touch, keeping metal parts from corroding. The additives that keep oil doing its job actually wear out, so changing your oil is a must to protect your engine.
Why Choose Biggers Chevy Professional Technicians?
Our in-house technicians are factory-trained to know your vehicle inside and out. Although Biggers Chevy specializes in Chevrolet models, our mechanics are fully qualified to work on any kind of car, regardless of model or make. Here are just a couple reasons why Biggers Chevy is your premier local oil change provider:
Schedule with Ease: At your service 6 days a week, our trained technicians offer hours Monday thru Friday from 7:00 AM until 7:00 PM, and Saturdays from 7:30 AM until 4:00 PM. Scheduling is a snap with our online scheduling tool or by simply dialing (888) 707-6197.
Expert Technicians: Stopping in at a one-size-fits-all service shop for a quick oil change can find you with technicians committed to speed over quality. Although we operate in a timely fashion, our expert technicians check your oil filter, air filter, and fluids to be sure that your vehicle is performing at its best.
Visit Biggers Chevy Today
Located at 1385 E Chicago Street in Elgin, IL, Biggers Chevy is just a 30-minute ride from Lake in the Hills when traveling down I-90 E toward Chicago. Hop off on exit IL-31S/N State St, swing a left onto W Chicago St, and find us with ease. Make an appointment or stop in and visit us today. Need a wheel alignment or wheel balancing with your oil change? Our expert service techs can help with that, too. We look forward to serving you!