2014 Chevrolet Tahoe vs. 2014 Ford Expedition
The 2014 Chevrolet Tahoe vs. The 2014 Ford Expedition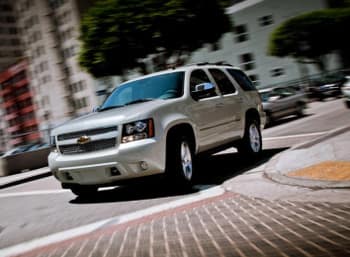 For a full-size sport utility vehicle that provides comfortable space, performance that doesn't sacrifice fuel efficiency, and a reputation for reliability, Schaumburg area drivers should look into popular models like the 2014 Ford Expedition and the 2014 Chevy Tahoe. While the new Ford Expedition is certainly a powerful SUV with a lot to offer, the new Chevy Tahoe, found right here at Biggers Chevy in Elgin, has the clear edge.
Better Fuel Economy: The ideal truck for taking your family on a long road trip, the 2014 Chevy Tahoe saves you time and money when travelling. It gets an EPA-estimated 15 mpg in the city and 21 mpg on the highway, so you can enjoy the road longer and keep your gas budget lower. The 2014 Ford Expedition, on the other hand, only gets an estimated 13 mpg in the city and 18 mpg on the highway.
More Safety Features: For increased visibility during the day, the 2014 Chevy Tahoe comes outfitted with standard daytime running headlamps. In the event of an accident, the new Tahoe can use the OnStar telematics system to contact emergency services and have them on the scene as soon as possible. OnStar also allows you to unlock your car if you accidentally left your keys inside, as well as provide a variety of other convenient services. The 2014 Ford Expedition does not have daytime running headlamps or a telematics system.
A Warranty You Can Count On: Drivers of the 2014 Chevy Tahoe can worry less for longer thanks to the 100,000 mile limited powertrain/drivetrain warranty. They're also covered by a roadside assistance program for 100,000 miles. The 2014 Ford Expedition limited powertrain warranty and roadside assistance program only covers 60,000 miles.
Test Drive the 2014 Chevy Tahoe Today!
To get behind the wheel of the 2014 Chevy Tahoe or to find out more about any one of our new Chevy models, call our sales staff at (866) 431-1555 or visit our dealership at 1385 E. Chicago Street in Elgin. We're just 9 miles from Schaumburg by way of W. Schaumburg Road, so stop by soon!