Experience the Thrill of Chevy Traverse Performance
The impressive 2017 Chevy Traverse is a mid-size crossover SUV that has both style and substance. If you're looking for an elegant vehicle that will take you where you want to go, then the Chevy Traverse's performance delivery has the muscle to do it!
Come along with us as we explore the extraordinary performance offerings of the exceptional Traverse. This attractive crossover is geared up to tackle tough terrain—and it also has the sophistication to transport you with flair when ruggedness is not on the menu.
Engine Oomph
Under the hood of the Traverse models roars a standard 3.6L DOHC V6 engine with Direct Injection and variable valve timing that delivers 281 hp (288 hp when equipped with dual exhaust) and 266 lb-ft of torque (270 lb-ft of torque with dual exhaust).
This powerhouse engine is mated with a standard 6-speed automatic transmission.
EPA-estimated fuel economy achieved onboard the traverse is 22 highway mpg and 15 city mpg.
Towing Titan
Whether you want to hitch up a boat for a trip to the lake, a cargo trailer for a move to a new city, or a camp trailer for a weekend in the mountains, the Traverse is ready to go!
This impressive full-size crossover is rated for a towing capacity of 5,200 pounds when properly equipped, which gives drivers plenty of options when it comes to hitching up pull-behind toys or work gear.
A factory-installed, frame-mounted trailer hitch is available for each of the Traverse models, and the StabiliTrak electronic stability control system comes standard—going into action each time a driver fires up the Traverse and helping maintain optimum grip on any kind of surface and in any kind of conditions.
When equipped with available trailering equipment, the Traverse further features a heavy-duty cooling system that helps keep it cool and operating properly, preventing temporary overheating that can occur in extreme operating conditions. This means drivers can tow heavy loads and tackle big hills with confidence.
Space for Any Excursion
When you're getting ready for an adventure, the Traverse serves up outstanding roominess to accommodate your cargo—and your comrades!
With seating for up to eight passengers and an incredible 150.8 cubic feet of passenger room, the Traverse becomes the ultimate transport to take you and your buddies—or your family members—wherever your thrill-seeking urges call you.
The Traverse also provides an impressive 116.3 cubic feet of cargo volume with both rear seats lowered, 70.3 cubic feet with the third-row seat lowered, and 24.4 cubic feet with all the seats in place. Load in even long and bulky gear—the Traverse has the space! When you need some versatility in terms of passenger room versus cargo room, a standard third-row, split-folding bench seat lets you fold down part of the back row to make room for cargo while the rest of the seat stays upright for your passengers.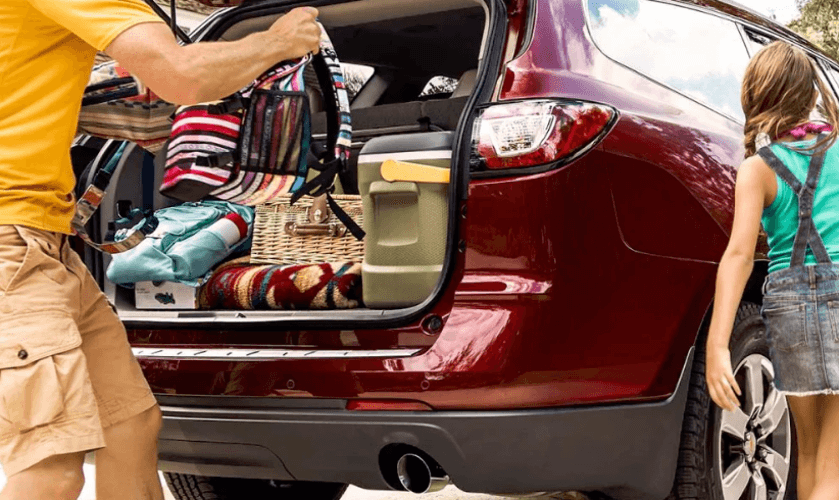 Talk is Cheap—Come Try It Out!
We're sure by now you're adequately convinced that the 2017 Chevy Traverse may well be the versatile SUV you're looking for—so now it's time to find out for certain!
Head over to Biggers Chevy, or contact us today to take a closer look at the 2017 Chevy Traverse performance, and get behind the wheel for an unforgettable test drive. We know the experience will leave a lasting impression—and you may just decide one ride isn't enough!